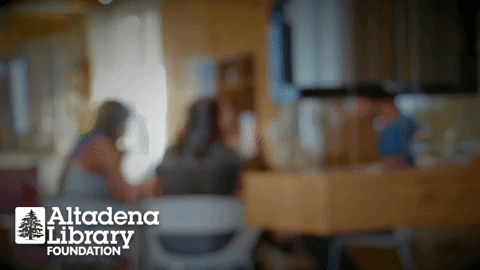 The Altadena Library Foundation Needs YOU!
As the Altadena Library District continues to grow and expand to reach all of Altadena, it will require the help of even more hard-working volunteers that are dedicated to our mission! The District is supported by three main entities - its Board of Trustees that provides governance and the Friends of the Altadena Library and the Altadena Library Foundation that provide financial support through various fundraising activities throughout the year. As we embark on significant projects in the coming years, including the development of an interactive, outdoor learning space around the Library, we will rely on the support of a robust Foundation.
That's where you come in! The Altadena Library Foundation is in need of committed, enthusiastic Board members to help lead the way toward progress and to fully equip the Library to carry out its mission. Board member responsibilities include, but are not limited to, the following:
Ensuring effective planning

Monitoring and strengthening programs

Providing financial oversight and ensuring legal/ethical integrity

Ensuring adequate financial resources

Enhancing the organization's public standing, and more!
Ready to make an impact?
This is the perfect opportunity for members of the community with experience that could benefit the Board to make a meaningful difference in the lives of the thousands of people our Library reaches.