MISSION
To support and enrich the facilities, resources and services of the Altadena Library District through fundraising and advocacy.
THANK YOU TO OUR TASTE OF 'DENA SUPPORTERS!
Objective
The main library, built in 1967, is the work of modernist architect Boyd Georgi who designed it to work in close harmony with its habitat. While honoring and preserving its historic architecture, the building needs to be renovated to become compliant with the Americans with Disabilities Act of 1990 and update technological systems. The nearly 50-year old structure also needs more maintenance and repairs than can be routinely squeezed out of operating budgets.
Why should you care?
Involvement is altruistic—It is a way to give a hand-up to neighbors in need, a resource to help them build a better life. It is a way to maintain an important education resource for Altadena families, many of whom are struggling. It can provide social opportunities for our seniors who may be facing isolation and loneliness.
Involvement is patriotic—Our democracy relies on an educated population to vote intelligently on critical issues, get interested, informed and involved in public causes, become civic leaders, and leave our children and grandchildren an America in better shape than the one we inherited.
Involvement builds community—Library events and programs draw together our diverse citizenry to celebrate our history through special events, to share different perspectives and bold artistic statements, and to enjoy music and food from cultures across the globe.
How can you help?
You can make a personal financial commitment.

You can reach out to your friends for their involvement and financial support.

You can bring your business colleagues and partners into this community-building effort.

You can share the importance of this capital campaign-funded renovation with your friends in government.
Board of Directors

Cynthia Carmona, President
Mark Mariscal, Treasurer
Cynthia Kumanchik, Secretary
Cushon Bell
Bridget Brewster
Laura Clarke
Leslie Denk
Nora Hampton
Claudie Kiti Bustamante
Yuni LaFontaine
Gwendolyn McMullins
Lola Warlick-Bryant
Community Supporters
Friends of the Altadena Library
Altadena Rotary Club
The Bohland and Kumanchik Families
County of Los Angeles
Fidelity Charity Gift Fund
Pasadena Playhouse
The Altadena Library Foundation was incorporated on October 7, 2009. It is a 501(c)(3) non-profit corporation, Tax ID # 27-0999622.
Contact: info@altadenalibraryfoundation.org
Phone (626) 470-7323 (that is 470-READ)
MAKE A DONATION
---
Interested in joining the Board of the Altadena Library Foundation?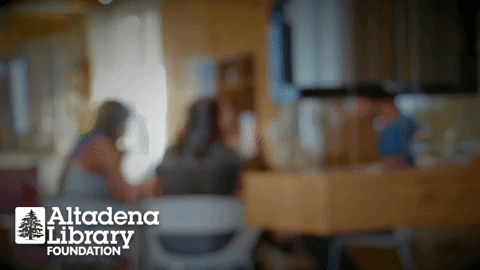 This is a volunteer position to support the programs and funding for capital projects implemented by the Altadena Library District, as approved by the District's elected officials. Board members would be asked to attend one board meeting a month and to attend Library events throughout the year. The responsibilities of a board member will include, but not be limited to the following:
Ensure effective planning: Boards must actively participate in an overall planning process and assist in implementing and monitoring the plan's goals.
Monitor and strengthen programs and services: The board's responsibility is to determine which programs are consistent with the District's mission and support the District's efforts.
Ensure adequate financial resources: One of the board's foremost responsibilities is to secure adequate resources for the organization is to fulfill its board-approved obligations to the District.
Protect assets and provide proper financial oversight: The board must assist in developing the annual budget and ensuring that proper financial controls are in place.
Build a competent board: All boards have a responsibility to articulate prerequisites for candidates, orient new members, and periodically and comprehensively evaluate their own performance.
Ensure legal and ethical integrity: The board is ultimately responsible for adherence to legal standards and ethical norms.
Enhance the organization's public standing: The board should clearly articulate the organization's mission, accomplishments, and goals to the public to garner support from the community.
---
Through AmazonSmile, select the Atadena Library Foundation as the organization you want to donate to when you shop online!
What is AmazonSmile? AmazonSmile is a simple and automatic way for you to support your favorite charitable organization every time you shop, at no cost to you. When you shop at smile.amazon.com

, you'll find the exact same low prices, vast selection and convenient shopping experience as Amazon.com, with the added bonus that Amazon will donate a portion of the purchase price to your favorite charitable organization. You can choose from nearly one million organizations to support.

How do I shop at AmazonSmile? To shop at AmazonSmile simply go to smile.amazon.com

from the web browser on your computer or mobile device. You may also want to add a bookmark to

smile.amazon.com

to make it even easier to return and start your shopping at AmazonSmile.

Which products on AmazonSmile are eligible for charitable donations? Tens of millions of products on AmazonSmile are eligible for donations. You will see eligible products marked "Eligible for AmazonSmile donation" on their product detail pages. Recurring Subscribe-and-Save purchases and subscription renewals are not currently eligible.
Can I use my existing Amazon.com account on AmazonSmile? Yes, you use the same account on Amazon.com and AmazonSmile. Your shopping cart, Wish List, wedding or baby registry, and other account settings are also the same.
How do I select a charitable organization to support when shopping on AmazonSmile? On your first visit to AmazonSmile (smile.amazon.com

), you need to select a charitable organization to receive donations from eligible purchases before you begin shopping. We will remember your selection, and then every eligible purchase you make at

smile.amazon.com

will result in a donation.

Can I change my charity? Yes, you can change your charity any time. Your AmazonSmile purchases after the change count towards your newly selected charity. To change your charity, sign in to smile.amazon.com

on your desktop or mobile phone browser and simply select "Change your Charity" in "Your Account."

How much of my purchase does Amazon donate? The AmazonSmile Foundation will donate 0.5% of the purchase price from your eligible AmazonSmile purchases. The purchase price is the amount paid for the item minus any rebates and excluding shipping & handling, gift-wrapping fees, taxes, or service charges. From time to time, we may offer special, limited time promotions that increase the donation amount on one or more products or services or provide for additional donations to charitable organizations. Special terms and restrictions may apply. Please see the relevant promotion for complete details.
Can I receive a tax deduction for amounts donated from my purchases on AmazonSmile? Donations are made by the AmazonSmile Foundation and are not tax deductible by you.
How can I learn more about AmazonSmile? Please see complete AmazonSmile program details

.